Grading Guide - Determining Soundness
The soundness component evaluates the overall condition of the stamp. Faults, both major and minor, are the key determinants here. The stamp is examined for creases, thins, color fading, toning spots/stains, reperforation, tears and repairs (or alterations), and the severity of any or all of these faults is taken into consideration.
Because a stamp can be faultless, or have any number of faults in any combination, we have set up a chart that shows how a variety of faults affect the soundness rating. See the Appendix for a detailed discussion of the various kinds of faults (both natural and man-made) which go into the determination of soundness.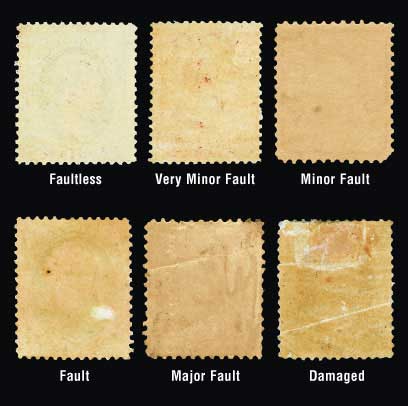 Faultless
The stamp is completely sound, free of all faults.
Very Minor Fault
Natural blind perf
Minor natural gum bend
Tiny natural paper inclusion visible on front
Significant natural gum skips on NH stamps
Shorter perf
Perf tip crease
Tiny, light toned spot
Minor Fault
Minor natural gum wrinkle
Large natural paper inclusion
Large natural gum skips or short gumming on NH stamps
Short perf
Corner perf crease
Toning spot
Shallow, tiny thin - about 1 mm
Slight color fading
Two or three very minor faults
Fault
Heavy natural gum wrinkle / crease
Light crease
Small thin - 1-3 mm or two tiny thins
Tiny 1 mm edge or perf tear
Pulled perf (below the bottom of the holes)
Reperforated on one side
Pinhole
Light stain
Natural straight edge (pre-1890 stamps)
Two or three minor faults or combination of minor and very minor faults
Major Fault
Large crease or two light creases
Large thin, two small thins or three tiny thins
Small tear or two tiny tears
Reperforated on two sides
Significant stain
Small repair (e.g., added perf or painted over small surface scuff)
Natural straight edge (post-1890 stamps)
Several trimmed, clipped or short perfs
Two or three faults, or combination of minor faults
Damaged
Severe or multiple creases
Large, deep or multiple thins
Large or multiple tears
Significant repair
Hole
Reperforated three sides
Two or three major faults or combination of other faults